Dental Office in London, ON – Northland Dental Centre
All our professionals at Northland Dental Centre maintain the highest levels of accreditation and pursue ongoing education to stay abreast of the latest trends in dentistry.
Dr. Viviana Pinto
Dr. Alexandre Santi
Dr. Yury Kabak
Dr. Nada Yousif
Dr. Jacob Rifkind, Oral Surgeon/Deep Sedation
Dr. Jason Palleck, Implants
Dr. Daniel Fortino, Periodontist / IV sedation (impacted wisdoms, extractions)
Jason Gillooly, Denturist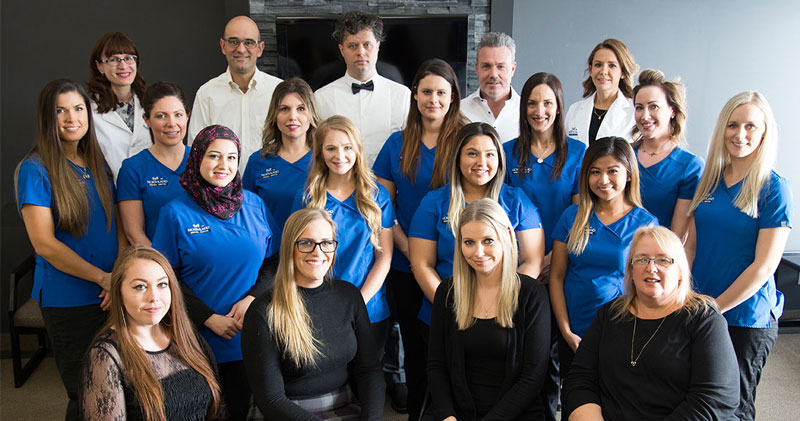 Stephanie B. CDA II – Office Manager
Amanda CDA II – Treatment Coordinator
Charlotte – Front Desk Reception
Jacqueline CDA II – Front Desk Reception/Hygiene Coordinator
Andrea CDA II – Dr. Palleck's/Specialists Assistant
Karla CDA II – Dr. Santi's Assistant
Carla CDA II – Dr. Pinto's Assistant
Laura CDA II – Dr. Kabak's Assistant
Jocelyn CDA II – Office Streamliner
Amanda W. RDH – Dental Hygienist
Olivia RDH – Dental Hygienist
Amy RDH – Dental Hygienist
Erica RDH – Dental Hygienist
Natasha RDH – Dental Hygienist
Kristine RDH- Dental Hygienist "ON MATERNITY LEAVE"
Natalia RDH -Dental Hygienist "ON MATERNITY LEAVE"
Below you will find office hours, appointment scheduling, insurance acceptance and billing policies.
*We require 48hrs notice to cancel or change an appointment*
So that we may meet your needs in a timely manner please call our office to request an appointment that will fit your schedule.
We hope that you will never experience a dental emergency, but if you do, we want you to know what your options are.

During office hours, if you are having pain or experience an emergency — such as bleeding, swelling, or trauma — please call us immediately so that we may schedule the best available time for you. We will do everything possible to treat your problem immediately and attend to your needs.
Should you have a dental emergency outside of our office hours,  please go to your nearest walk in clinic.
Payment Options:
Financial options are discussed during the initial phone call and with each visit. Our dentists and their staff are committed to providing excellent dental care, and will guide patients in choosing the best payment option for their individual needs. We accept cash, Visa, MasterCard, and Medicard (for more information please visit their website: www.dentalcard.ca).
Dental Insurance:
Your insurance is a contract between your employer and a dental insurance company. Benefits received are based on the terms of the contract negotiated between your employer and the dental insurance company, and not your dental office.
The goal of most dental insurance policies is to provide only basic care for specific dental services. The benefits that you receive from the dental insurance company for your current insurance plan have nothing to do with your needs or achieving a high quality result.
Your benefits are decided between your employer and the insurance company. Many services may not be covered. Our office will do everything possible to help you understand and make the most of your dental insurance benefits. As a courtesy, our office will complete and submit your insurance forms to assist you in receiving the most from your benefits. Please remember that you are ultimately responsible for all expenses incurred. We urge you to read the policy so that you are fully aware of coverage and any limitations of the benefits provided.
We accept assignment – we bill your insurance directly.
Digital X-rays
Zoom! (in office, one appointment whitening)